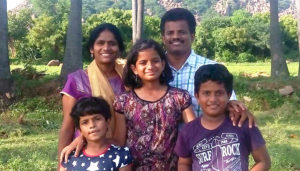 School of Evangelism and Pioneering 
Muthu, Kavitha, and family
YWAM, South India
Our Family-By the grace of God we are all well. Hope you are well too. Our children, Princy, Prince and Precious have been promoted to next grades-Princy to 8th, Prince to 5th and Precious to 3rd. Thank you for praying for them. We hope and desire that they grow in the Lord and serve Him alone!
We request you to pray for our children's studies especially for Prince. He loves to play always but not interested in studies.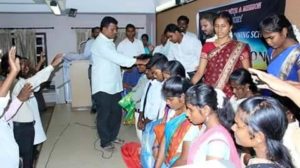 36 PEOPLE FINDING NEW LIFE IN DTS SCHOOL MINISTRY-This year's DTS just returned back from their outreach. The Lord has used them very powerfully. Two teams went to two different States and ministered in 11 locations. They were able to reach more than 30000 hurting people with the love of Jesus. Many found Jesus and more than 30 of them are attending churches now. Six people were baptized. Many healings and miracles took place.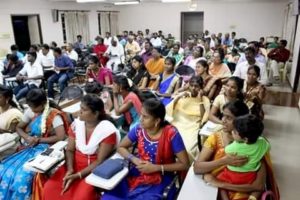 JESUS HEALED LAXMI – Laxmi is a young girl from a Hindu family. She had a strange sickness and was suffering on her bed for many days. They spent lots of money and worshiped many gods but there was no healing. When our Discipleship Training Team heard about her and went and prayed in her house and immediately she was healed and sat up. Now her family is rejoicing and coming to church. The This DTS School did a great work. They graduated last week and now they serving the Lord in many places. Please pray for them.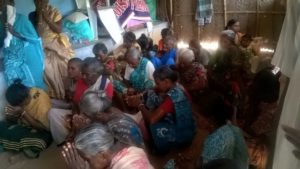 AARYEE'S TESTIMONY OF OUR WIDOWS MINISTRY - Aarayee, is a widow who has suffered a much heartbreak in her life. She comes very far to collect the provision. She has no one to take care of her. Her eyes and legs can't function well. But she loves the Lord. She wants other widows to know the Lord very closely. Currently we are helping 38 widows overcome their sadness and help them with monthly provision. Many are putting their faith in the Lord.
VILLAGE P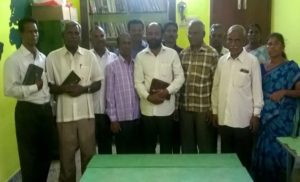 ASTOR'S SUPPORT IS MATURING - The ministry to the Pastors is going great. We have been helping 11 Pastors for the last one year. Pr. Jeyaseelan has 7 small children and a small church. Our support of monthly provision helps to feed his entire family for a month. Recently his daughter went thru our DTS. He wants to come back and work with us! There are many Pastors are asking our help but we are not able to help as our resources are very low. Please pray for them and for us to be able to help them.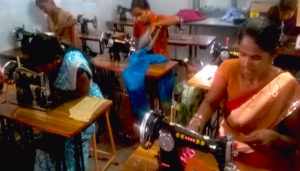 TAILORING SCHOOL BLESSES NEW WIDOW - Devi is a young widow, her husband was sadly killed in the road accident leaving her without any hope. We found her heartbroken and encouraged her to enroll in our tailoring program. She is a good student and learned the skills fast. Now she has completed the course and was blessed with a new sewing machine. She is very confident to live a decent life with her tailoring skills. The two tailoring centres are going well. We are planning to start another centre in nearby village where we have church planting team. Please keep this ministry in your prayers. It is blessing many women who are hurting and need help. It is almost impossible to remarry in India. Therefore, widows need a way to have an income.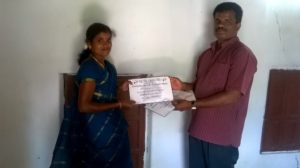 HIV/AIDS CHILDREN ARE HUNGRY AND NEEDY - We thank the Lord that we can help 30 children with this dreaded disease. The nutritious food that we give is helping the children to do well and it is cheering them up. Some of the children did very well in the recent exams. Please pray for them as they face many challenges in life. We hope to continue to bless them. Our burden for these children comes from James 2:26 "If one of you says to them, 'Go in peace; keep warm and well fed,' but does nothing about their physical needs, what good is it?"
We are very thankful for your love and prayers. Thank you for your partnership. We are able to minister to hundreds of people every month and train many missionaries who are taking the Gospel to unreached places. Our desire and goal is to see as many people as possible to come to know the Lord thru our Training, Evangelism and Mercy Ministries. We would love hear from. We are praying for you and please continue to pray for us.
Blessings-
Muthu & Kavitha, Princy, Prince and Precious.
YWAM South India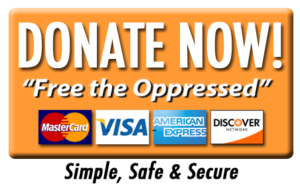 Equip The Nations