School of Evangelism and Pioneering 
Muthu, Kavitha, and family
We are very happy to send this update to you. Thank you so much for your love and prayers. We are very grateful to God for His faithfulness and grace on our lives and ministries.
As a family we are doing well. Kavitha is busy with children and also leading the girl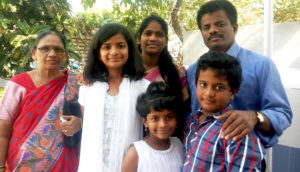 staff and students of our training center. Princy, Prince and Precious are enjoying their schools. Soon they will be having their annual exams. Please pray that they do well. The Lord has been so good to us!
DTS Students From Different Backgrounds - It is going well. The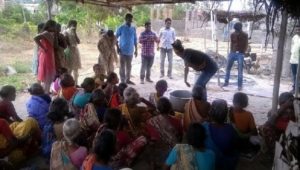 Lord is ministering very deeply in the lives of the students. There are 12 students and 13 staff in the present DTS. Many of the students come from challenging backgrounds. It has been tough dealing with all their issues but now they are growing and we are very excited.
Gangster Kumar, 28, was a well-known gangster in his area before he came to do DTS. Many times he was angry and wanted to leave, but the Lord is touching his life and there are lot of changes. Now he wants to finish his DTS and wants to serve the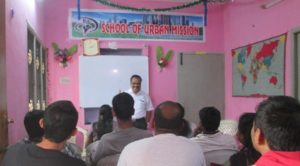 Lord!
God Changed Merilyn - She is from a small village, she was very shy and introvert. Her mother is not mentally stable so she went into depression. Now in the DTS, she is very active and becoming a great woman. We thank the Lord for the His amazing work! They will be leaving to 2 months of Outreach next month. Please continue to pray for these dear students.
Muthu Named Leader for YWAM Tamil Nadu. The YWAM meetings have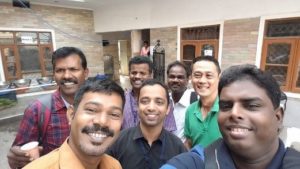 been  in various places in India. There are many good changes taking place internationally in YWAM! We are praying and working towards reaching the Last, Least and Lost! We are excited and looking forward. Muthu was named the Convener-Elder (New Term for Leader) for the State of Tamilnadu. Please continue to pray for Muthu as his  responsibilities expand in YWAM.
Stopping Human Trafficking Through Adoption– We were able to conduct two Human Trafficking  Adoption Challenges in India program in Trichy and Tanjore, South Ind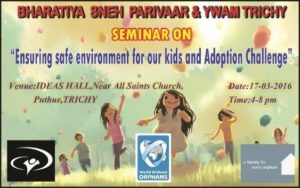 ia. According to one estimate, of the 30 million orphans in India, only 2,500 children were adopted last year. This is down from 5,700 four years ago. We asked our 145 participants to pray and actively do something
to save the children and stop human trafficking.
It takes 48 hours to lure a street child into prostitution. We understand awareness does not stop anything. We have to have solutions for our children. Pray for us! We are actively seeking wisdom and the right partnerships here in India to help this situation.  As always, we appreciate you and your support.
Empowering Widows & Women in Tailoring Centers - Our two tailoring centers for the widows and poor women are doing well. We are able to empower these precious ladies to be self-reliant and have a dignified lives. This ministry of tailoring center is reaching out to many in the villages near our tailoring centers. This also helps to stop human trafficking.
Giving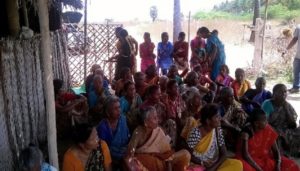 to the Poor Widows – we are giving Rice to 35 older wid
ows. There are many more ladies who want to receive this and we are praying for the Lord to provide for them.
Village Pastors Support Ministry - We have been supporting 11 village Pastors for the last one year. Their churches are growing and the Lord is using them. The Ministry to the HIV/AIDS affected children is going well too. Muthu is able to speak in many churches and the Lord is using him to minister among many people.
Prayer Needs-
1. For Muthu's parents' house construction-By the grace of God, we were able to put concrete on the roof. We have a lot of work. Please pray for the provision-Rs 300,000 ($ 4500) to finish the work before monsoon starts.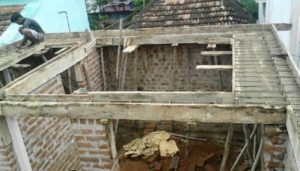 2. For the upcoming DTS in April and School of Urban Mission in July-We would love to get many students.
3. For the construction of the church building cum Tailoring Center for the villagers. We have almost done with the foundation work but have a long way to go, please pray for God's provision.
We once again thank you so much for your love and partnership. Many times when we sit down to eat our meals, we think of you and thank the Lord for you. May the Lord bless you richly and lead you. If you have any prayer needs please let us know we would love to pray for you.
Blessings and Love
Muthu & Kavitha,
Princy,Prince, Precious