School of Evangelism and Pioneering 
Muthu, Kavitha, and family
More than half of the world's population lives in cities and this poses a tremendous challenge to the churches today. YWAM developed SOUM to equip the students and urban workers to meet the challenges of the cities and bring transformation. During SOUM the students will visit various shopping malls, banks, companies, IT offices, colleges, poor neighborhoods, and so forth to learn about bringing transformation in all areas of the city. The students will also learn from people from various fields in the classroom-like bankers, professors, lawyers, government officials, beggars, rag pickers, street children, vegetable vendors, slum dwellers and other people.
After the completion of SOUM, the students will have gained all the needed knowledge and experience to work in cities of India and beyond. We will try to help graduates to start new ministries or work in existing ministries around the world.
How are you? How is your family? Hope you are all well. By the grace of God, we are all doing well. We want to thank the Lord for all the He has done! We really want to thank you for your love and prayers! Thank you so much for standing with us and partnering with us. May the Lord bless you and keep you. We want to give you an update of God's work in our lives and ministries.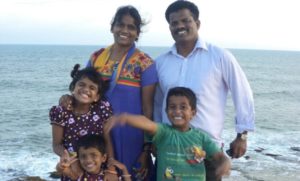 Our family! Our Family- The family is doing well. Kavitha is doing well. As usual she is busy with family, ministry to the girl staff/students and cooking at our training center. She is also busy with hosting guest speakers and other guests that come to our house. The children are well. Our children-Princy,Prince and Precious are writing their exams now. Princy is in 6th grade, Prince is in 3rd and Precious is in 1st. By the grace of God, they are healthy and growing in the Lord. Prince wants to become missionary! Princy and Precious want to become Child Specialist Doctor and serve the people! Muthu was able to share the Word in many churches! The Lord used him to bless many in the congregations.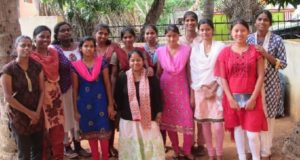 Our Discipleship Training School just completed their lecture phase and left for 2 months of Outreach. We saw the Lord deeply working in these students. Most of the students came with many challenges and the Lord used us and the speakers to minister to them. Their lives are transformed. We praise God for His deep work in their lives.
One DTS student, Paul Sam who followed the Lord for many year, backslidden and came to DTS. The Lord touched him powerfully and now is ready to serve the Lord rest of His life. He has a radical testimony of God's work!
During Outreach our DTS will be visiting many different places in India and bring the Gospel. We believe that the Lord will use them to bring many people in to His Kingdom.
Will you please pray so that they will be prepared see the power of God in action?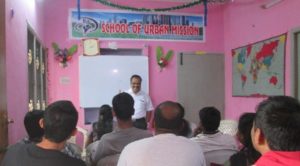 School of Urban Mission-The Lord has brought many students from all over India for this School. We are only ones in India that runs this school. Most of our Indian Missions have focus on villages, but thousands of villagers are migrating to cities every day. We are very excited that these students learning so much and all of them want to start various kinds of ministries in cities! We have had many experienced urban teachers as faculties. We also plan to start this school in many parts of the world. We will be running SOUM in Amsterdam (March), in Trichy (July), Pittsburg (Sep) and other places as the doors open. Please pray that we can multiply this school in many places.
Our Class in progress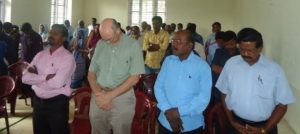 Pastors Seminar Pastors Training-In partnering with Mustard Seed Foundation, we were able to host 7 Seminars on Theology of Work in 7 places. Dr. Steve Coe was the main speaker. Nearly 500 Pastors/workers were trained. Many of them were challenged to think outside the box! The Lord We hope to run many more Seminars in the coming months.
We would love to have monthly breakfast meetings with local Pastors. Please pray for the favor of the Lord.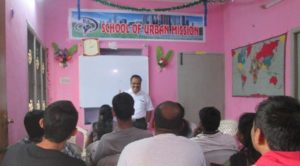 Ministry to HIV/AIDS-The Lord helped us to partner with a local church in reaching the HIV/AIDS affected people. We had 2 days of program. One day we were able to help the HIV/AIDS affected children with School bags, note books and a nice meal. Another day, we had a meeting for the women and were blessed with Indian Sarees. We have been doing this for the last 3 years. We hope to continue to bless them. In these meetings we able to perform skits, choreography and songs and then preached the Love of Jesus. We want to do long term ministry to them. Please pray that we will be able to help as many people as possible.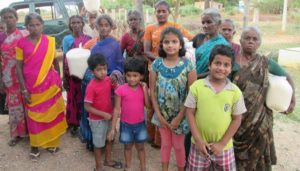 Our children with Widows Ministry-We were helping 14 widows with monthly provision. By the help of God increased from 14 to 20 widows. There are hundreds of widows who are in desperate need. Many of the family members don't care about these women. Most of them are very old and struggle a lot. One lady, fell down and broke her legs as she could not see the road properly. We are soon planning to start the tailoring center for the widows, so that they can stand on their legs. Please pray that this happened soon.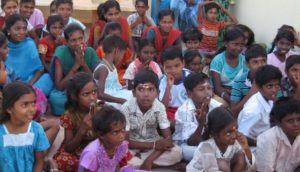 Beggars Ministry-Simeon is leading this ministry. He has been constantly on the road, meetings the homeless beggars. We have released Simeon and his family to fully focus on this ministry. He has started a Wednesday fellowship for the beggars and also a Sunday evening fellowship for this neighborhood children. He is looking for a place where beggars could come and rest. Please pray for God's favor.
Other Ministries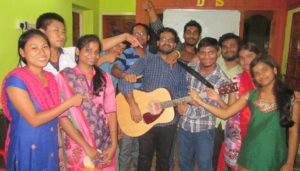 1. We were able to conduct a program for the college students in Bishop Heber College. Nearly 300 students attended this.
2. We did a program for the Cerebral Palsy children near to our center.
3. We visited 2 orphan homes and were able to minister to the orphans.
4. Our teams were able to minister in few churches.
We want to once again thenk you for your love and prayers. We pray for you. We would love to hear from you! If you have any prayers needs, please feel free to email us and we will be happy to pray for you. Love and Prayers
Blessings
Muthu & Kavitha,
Princy,Prince, Precious