School of Evangelism and Pioneering 
Muthu, Kavitha, and family
We really want to thank the Lord for all His grace and mercy. Thank you for partnering with us. We as a family thank you for your love and prayers. Our family is doing well. We want to update many ministries that we have done recently. We pray for you and your family. May the Lord walk with you in the coming new year!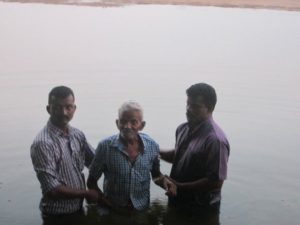 Praise God – Muthu's Father's Baptism! Muthu has been praying for 24 years for all his Hindu family members to get saved. The Lord is faithful!
Muthu's Father-Mr.Arumugam 84 yrs! Baptism by Muthu! What a privilege! Pls continue to pray for Muthu's family members to know the Lord.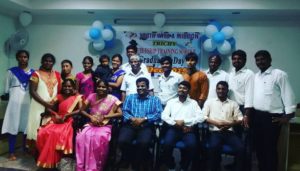 Discipleship Training School Graduated. The Lord used them to bring hope and healing in Jesus' Name to thousands of people in 5 different locations. Some people were healed of incurable diseases and released from the power of devil. 14 DTS students were graduated. The next DTS will start soon. Please pray that we get a good number of students. Their lives were changed and they went on changing others!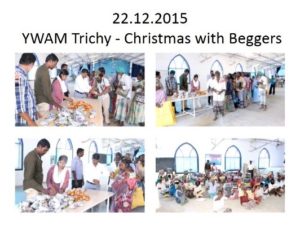 Total 415 Widows were blessed!
Widow's Ministry-We wanted to bless the widows with new dresses and good food during Christmas time. Last year we blessed 250 widows, but this year we were able to bless more than 415 Widows in 5 different locations! We shared the love of Jesus to all these precious ladies!
The tailoring center for the widows is going well. Monthly provision for 40 widows are given.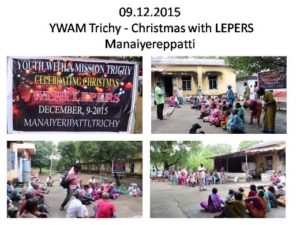 Beggars' Ministry-This year we are able to provide Sweaters for 100 beggars. The weather is cooler and one thing that they needed was sweater. We thank the Lord for Simeon who is leading this ministry. Recently 6 beggars got baptism and now they are undergoing Bible Studies.
Beggars are receiving Sweaters and food
Gypsy are blessed! Gypsy Ministry-The ongoing ministry among the gypsy is going well. We are helping two Pastors who work among them in 2 colonies. The Lord helped us to give 60 dresses for very poor gypsy.
We want to transform these two communities. It is a challenging task and we are trusting the Lord for a change in their hearts and minds.
Lepers' Ministry- It was a wonderful time to be with Lepers in Manaiyeripatti area. We spent time with them and shared God's love thru Skits and Dramas. We also provided nice lunch for 90 lepers.
The Lepers are simple and loving people. They always warmly welcome us to their place!
Christmas with Police! This Christmas we visited 11 Police Stations in our City and shared the love of Jesus with 200 Police Personnel. They serve our city day and night and it was a privilege to honor them.
We want to bless as many people as possible. What an awesome opportunity to bless these dear ones!
Flood Relief-Due to heavy rain recently in our State of Tamilnadu, millions of people were affected very badly. Many lost their lives and many others their houses and belongings. We went to Nagappanur and Perikannankuppam villages and provided Rice, Clothes and Breads. We praise God for the opportunity to serve these needy people.
Relief work in Nagappanur
Great time with Orphans Orphan Ministry-We were able to visit two hostels where more than 260 children are studying. Many of them are Orphans and some come from very broken families. We played with them, shared the Word and provided Food and cakes for them. We will continue to minister to them.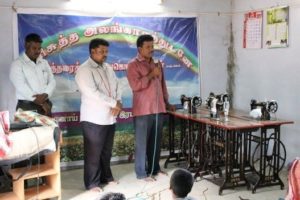 New Tailoring Center-Through our church planting team in Periyakottai village, we were able to open a new Tailoring Center. The Lord helped us to buy Sewing Machines and other essential tools for the center. This center is our second center. We want to empower hundreds of poor women so that they will live a dignified life.
Second Tailoring Center
Ministry to the Blind Blind Ministry-We have been supporting one Evangelist from the Blind community. Recently we were able to gather 50 Blind and spent time with them. We blessed them with nice food and dresses.
It is wonderful to hear many believers' stories from Blind Background. They are committed to the Lord and His Work.
HIV/AIDS Ministry-For the last many months we are buying nutritious food for 30 HIV/AIDS affected children. We are grateful to the Lord for the provision. During Christmas we have gathered them along with their parents and shared the love of Jesus. We also gave them nice lunch and dresses.
We would love to increase the number of children who receive Nutritious food.
Christmas Celebration with HIV/AIDS affected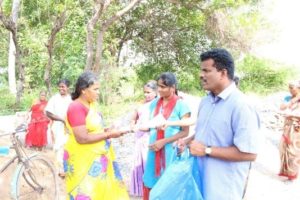 Farmers Ministry- One of our friends asked us to bless the farmers during this Christmas so we cooked a special meal and cakes. We prepared a nice tract for them and then went around many villages and distributed to 118 farmers. It was a great time. Thanking the Lord for all the great times!
We really want to thank you from our hearts for standing with us and partnering! We were able to minister to thousands of people by His grace and thru your love and prayers. We continue to pray for you. May the Lord do mighty things in your life in 2016! Please pray for us and our ministries.
Blessings,
Muthu & Kavitha,
Princy,Prince, Precious