The Hindu government still has our girls we saved from infanticide. The Covid19 lockdown brought our fight in the high court to a complete halt. As you can read throughout our other blog posts, people in our State wanted one child.  The Eastern slogan: "We two, but we are one."  This means the government only wanted us to have one child. Because of customs in India, girls are very expensive to care for and to raise, so everyone wants a boy. In villages, some people were killing their infants when they discovered they had a girl.  We worked in these villages to literally rescue our girls from death. The parents of these girls didn't want to get caught by the police so most of the details on the paperwork is incorrect. Now, we are in a big battle to make our government return our girls to us. We have made some headway, but it is an ongoing battle we can never give up. Our cost to keep the house for the girls so we can maintain our non-government status is very high. Now, the court is prohibiting us from discussing the Baby Girls Home situation with others. Please email tommy@equipthenations.org for our current information.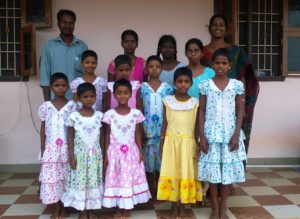 This past month we have been busy doing personal evangelism. A new resource we have is a book written by a Hindu priest who accepted Christ. He is now in ministry here locally. His testimony is exciting and thousands of people have come to Christ after they have read his book. I met him at his office and purchased some copies of his book. We have been sharing them with our Hindu neighbors.
I am sharing the gospel and then leaving this book with people to read. One man who works at a local bank took the book home to read and I had asked him to return the book to me the next week. When I followed up with him the next week, he said the book was very interesting to read. His wife and children were reading it. We believe God is definitely working with them.
Our goal for next month is to buy more books and visit more people. We will share the gospel and leave the book with them to read. The ex-priest has another book he has written about hell. It makes the reader think about their eternal life. We want to buy it and distribute it as a follow up to the first book.
Prayer Requests:
1. Please pray for our Hindu neighbors who are reading this book to come to Christ.
2. My elderly mother is bedridden and in failing health, we care for her as we can.
3. We keep working to restore our kids back to us. We are waiting for the court to reopen after the lockdowns.
Please see the SPECIAL PROJECTS section in their blog for more information. Please continue to read their newsletter. You can keep up with and correspond with Russal and Kamari in the following ways:
Email: russal@rediffmail.com
FaceBook: https://www.facebook.com/russal.raj
To support the ministry for the first time Click Here.
To reenter your giving portal click here