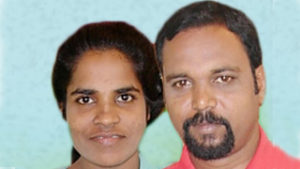 Baby Girl Home
Russal, Kamari, and Staff
Courthouse Battle For Right To Keep Girls – I am standing outside the courthouse house with Karmari. It seems as though we have been living here the past year struggling with the go
government with the rights to keep the girls. As you can read throughout the blog, people in our State wanted one child.  The Eastern slogan: "We two, but we are one."  This means the government only wanted us to have one child. Because of customs in India, girls are very expensive to care for and raise, so everyone wants a boy. In villages, some people were killing the infant girls
and we rescued them from death. These people didn't want to get caught by the police so their paperwork they gave us was incorrect. Now, we are in a big battle to keep the girls out of "bad orphanages." Thus far we have spent $15,000 in legal fees. We are expecting to spend another $6000. We need 21 churches to raise $1,000 each of our children so we can finish this epic struggle.
Baby Grace is Momma Grace- She is just nine-years-old, she is the Little-House-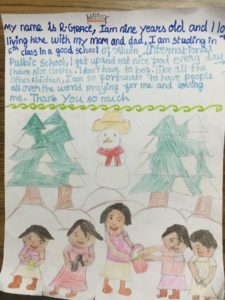 Mom: Grace talks about how she loves all her sisters and feels a responsibility to care for them. She participates in the school game; she played well so she got a certificate in the school annual day.
New Requirement, New Opportunity! This academic year nine of our girls are going to the same school, our school system in our district makes it mandatory that all parents move their child every step to a school with an education system that extends to twelfth grade. Because we snatched most of these girls from death and the parents were ashamed of what they were about to do, we were not able to obtain their birth certificates. This had never been an issue, but now the girls are ready for higher education and we are facing a real dilemma in all schools throughout our district.
No One Would Accept Our Children! There were no quali
ty Tamil or English speaking school in our area who would accept our "adopted" girls in their school without birth-right documentation. Our girls were being rejected over and over, again and again by every quality school in the district. (Only one low quality school finally called and said they would accept, but they accept everyone and they don't teach correctly. This is not a good or safe school.) Last academic year, 2015, we started to pray with whole staff and girls to our Abba, Father and He heard our prayers. One of the nicer school's called, "Alwin International Public school" http://www.alwininternationalpublicschool.com/ called us last year and accepted all of our daughters, our kids joined in this school and studied well and promoted to the next grade this year 2016, this year they upgraded to 4th 5th and 6th grade.
GOD SAID - "He is a Father to the fatherless" (Psalms 68:5a)  Our Father tells His children: "For I know the plans I have for you," declares the LORD, "plans to prosper you and not to harm you, plans to give you hope and a future" (Jeremiah 29:11). We believe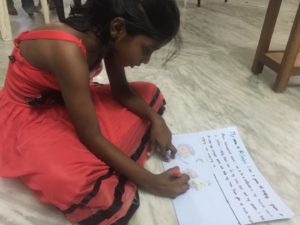 their Abba Father wants them to have the best chance possible in life!
The nice school gave us one concern and that is we must keep up with the tuition fees of all these girls to keep them in school—there is no exception to this rule. The tuition for each girl is $6294 for all ten.  PLEASE SEE SPECIAL PROJECTS.
EDUCATE A CHILD –  I want to ask you to look at the photo below of our girls and pray about our Baby Girls Home Special Project in your church. In a nutshell, we are asking 21 churches to do a fundraiser and raise $1000.00 each to help us with our legal fees. We also need one new supporter from each of the churches at $26.00 a month to help us educate our children. Since you will be a new supporter, your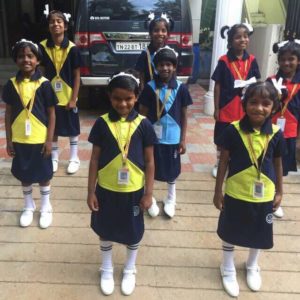 finances will be earmarked for education. PLEASE SEE SPECIAL PROJECT FOR MORE INFORMATION.
We need to see the Lord move in a big way for each of our girls. Of course, you can give one time gifts or whatever the Lord puts in your heart. And if you want to adopt one of these girls, you can write them and correspond with them directly to see how they are doing. And of course, you always welcome for a visit!
Saving Baby Girls – When we started this ministry in 2005, our focus was on the joy of saving the lives of girl babies from genocide. Our vision was to help the girls mature into women in a safe environment. Like we have written, we are facing many government legal struggles to keep our girls safe, but the joy we are experiencing with them watching them on a daily basis has far outweighed any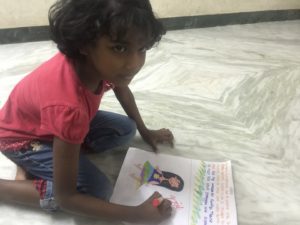 struggles we have experienced. The joy comes from the Lord, the girls, and each one of you as God uses you.
Thank you so much for the books, letters, emails, cards, clothes, and coming to see us. These things have kept us going throughout the year. and through the battles Each one of you are such a blessing and make our ministry possible!
The Epic Battle is Not Lost – We do need your help in this epic battle we are in with the government and it is only compounded with the issue with the school. We need to get out of debt. If you are receiving this letter, I want to personally ask you to go to you mission council, elders, and pastors to ask them about raising $1,000 this year for our home and to find one new
supporter for our children at $26.oo a month. We need 20 churches to commit to this project. When we get 20 churches committed, I will let everyone know.
In His Service with His children,
Russal & Kumari
You can follow us and our girls lives through the following ways:
All funds can be sent through Equip The Nations for a Tax Deductible Receipt. They take no overhead expenses out of your gifts. We get 100% of your donations, minus the wire transfer. We have no administration fees we take out, 100% of your finances go to the care of the children.