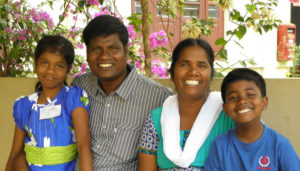 Church Planting & Mercy Ministry
Mark and Hepsibah
Greetings from Mark Antony and Hepsi. I hope you all are doing well. Here everything's going well! By the Grace of God Hepsibah is getting better. We are very thankful for Dr. Boaz, the "right" diagnosis (rheumatoid arthritis) and finally getting the correct medication. PRAISE THE LORD!  We are not thrilled with the diagnosis, we are praying for healing, but in the meantime we know God's grace is good.   Each quarter we need to go to Chennai (Madras) for check up and to see how the medication is working. This is very costly to us.  Please keep her and our family in your prayers.
Threats, Trials, Tribulations in Church Planting:
The government in India has switched hands. In brief, Hindu Temples are going up and church buildings are being tore down. …Last month we conducted our annual VBS in the village where we are Church planting. Our goal for this year's VBS was for 500 children, which is not unusual. However, we were not able to accomplish this goal. The village leaders and some who are against Christians in this area came and wanted to fight with me. They were not happy with the Christian ministry in their community. They were really upset! The children who were there at the VBS at the time were scared. The men were trying to make the children run, but children were not going. –We as ministers have to stand our ground in the face of this opposition!
Later, the same men came again and got angry with us. They again were threatening us. They were telling us to get out of the village. Because of the many threats, many parents who would send their kids to VBS did not send their children this year. We finished with 65 children. This is very sad! Nevertheless, we have some amazing stories of the power of God in our newsletter. Thank you for working along side us in the Great Commission work.
GOD'S POWER VERSES MAN'S POWER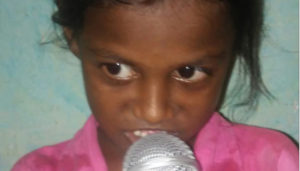 God Healed Mother When Daughter Prayed:
Athisaiya, 7 years old, from non- Christian family  attended our vacation Bible school without missing a day. There she learned that God heard our prayers. She attended VBS on the third day. She was very sad. The teacher who teaching the class asked, "Why you looking so sad?"  Athisaiya replied, "My mom was not feeling well she is suffering from headache. My mom went Hospital also and took medicine also. But nothing happening." After hearing this from Athisaiya, the teacher prayed with her. The teacher told her to pray with your mom when you get back to home. She went to home and said to her mom. Mommy I going to pray for you to Jesus! I am going to pray for healing for your headache. Then she put her hand on her mom's forehead and prayed.  …After the prayer, her mom felt something happened in her. The headache totally left her, immediately. The kids came to VBS the next day and told the teacher all things. The report went throughout VBS.  And also the final day of celebration the mother testifies before congregations. It was just like in the book of Acts, but the children did the ministry. haha.  Amen! God loves the little children's.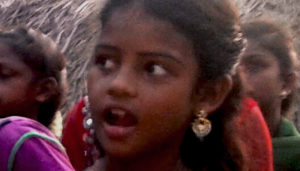 Thyroid Disappear When VBS Child Prayed:
Rasitha studies in the 8th grade. She has physical problem. Her parents met two doctors in two different hospitals. They were taking some tests and they said she had a thyroid problem. She needed to take medicine otherwise she will need to have an operation. She and her parents were discouraged. But the girl, Rasitha, learned in VBS how to pray herself to God. She said she used everything she learned in VBS and asked God to heal her sickness. Her parents went to another hospital with her. The doctors reports came back normal. No sign for Thyroid issues. "God hears the pure of heart!"  Amen!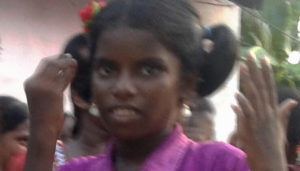 God Delivers Gas Stove for Sinthu:
Sinthu she is 12 years old. Her father died when she was 9 years. Her family is very poor. She has 3 sisters. Sinthu is the youngest. In her family, they have to cook everything using open wood fire stove. This is very hard on her mom and makes her feel very sad. So she started to use the information she learned in VBS to pray for gas stove for her mom. A few days later her uncle came and blessed the family with a gas stove. Her uncle didn't know his niece was praying! Because God is soooo God, she cannot keep quiet. She came to VBS praising God throughout all the small classrooms!  Call on Me and I will answer you, says the Lord. What a wonderful God that we have to worship!!!
Please keep our ministries in your prayers! May the Lord Jesus Christ continue empowering people in His love.
And also please pray God protection for us and my kids. Thank you. And you always in our prayers too.
In His love,
Mark Anthony and Hepsi