MARK: Church Planting & Mercy Ministry
Mark and Hepsibah
Village Ministry
Acute Alcoholic Saved
After drinking for forty-years, Kris***  is now a sixty-five-year-old acute alcoholic. Through the years, we have consistently met with Kris*** and shared about the power of the One who came to give us a new life in Him. But she had never paid attention. The other day she became extremely ill and she went to the doctor. But he didn't give her any hope for life. In short, he said that her addiction had damaged all her vital organs. She left the doctor's office very depressed. And when she returned home, she tried to commit suicide. Luckily, the family members in the house saw what was happening and rescued her. Soon after this incident, our team came to her home and we again shared the Good News with her and all her family. This time she chose to believe in Je*** over and above her traditional beliefs. PRAISE THE LORD!  We prayed with her and we are talking with them about their next steps in faith. Please pray for a complete change in her life! Thank you for your support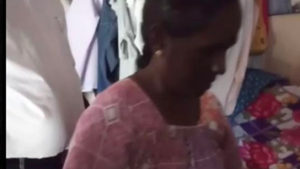 One high caste lady who really hated Je** had a severe stroke on her left side. She sought healing by spending her savings at many hospitals and doing many treatments. Then, to my surprise, her husband came to church and asked me to follow him home to pray for his wife. My wife and many church believers left immediately. When I saw her I said to the J-hater, "Jesus is the healer from sickness." Then I asked her, "Do you believe that Jes* can heal your sickness? She replied, "Yes." After a discussion, everyone from the church gathered around and began praying: "Jes* is the living God and He is God!" At the end of much prayer, I said, "Rise and walk." And for the first time in two years (my understanding) she came up from the sofa and walked without any support! Everyone in the room was amazed and praising Jes*! As she walked she said continually said, Jes*, Jes**! Afterward, we took a little video to show her new mobility! Praise His Name.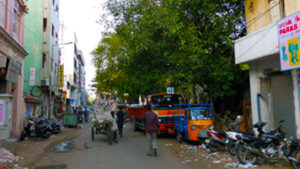 A community man, Johnson, tried to kill himself by poison. When one of our Church members found out, he called me to ask me to pray and to give me contact info. Immediately, I called Johnson's phone and talked and prayed with his wife. She told me that doctors said that poison completely spread through his whole body. And that the poison has affected his brain. He has now been unconscious in four days. At our house, we began to earnestly pray for Johnson. Throughout this time Johnson was still unconscious. But Praise to Je***. The next day Johnson open his eyes and he was able to speak. We give glory to G**. The minute I found out, we went to the hospital in Colachel to continue to pray for complete healing. Johnson was very surprised and happy to see my face at 3.45.A.M. Praise Je***! Please join me in praying for the many needs in this family.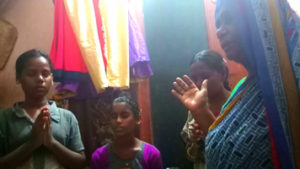 God Restores the Broken-hearted! Three months ago, a Grandma lost her 28 Years old daughter, Anj***. She had some mental challenges and required a person to stay with her at all times. Unfortunately, the caregiver was not paying attention and Anj*** wondered out on the street. There, she committed suicide by fire. (Hindu's believe that the soul is released when the body is burnt, but who knows what was going through her mind.) Those who witnessed the suicide were unable to help. The Grandma and remaining family were heavily grieving when we came to their house during our door-to-door evangelism. We were able to counsel the family using the comfort found in the Word of God. We encouraged to believe and ask Jesus to come into their hearts. Ask Him to fill them with His Peace. They did with tearful eyes! In the end, they requested us to come back and talk some more. Grief is a process and they are now on the right track to find true Peace. And we believe we could already see the Comforter at work! Please keep us all in your prayers.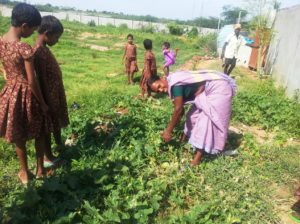 Jesus Proves He Is "Lord of the Harvest" to All: A woman we will call LTA found new love in Christ for her life by the POWER of God.  LTA  is from the streets and the handicraft trade. She lost her right leg in the accident on 2010. LTA works farming, planting, and harvesting rice. Because LTA is cripple and suffers like many who do not have money. Every place LTA plants rice, the people in the village say it will not grow and she is heartbroken. They tell her that she is wasting her time, energy, and money. The villagers promised her that during harvest time that she will gain nothing and stay poor. She shared these stories with my wife and I. We began to pray with her. Then God gives us a verse: "And Isaac sowed in that land and reaped in the same year a hundredfold. The LORD blessed him." (Ge 26:12) Hepsibah and I began to declare this verse for Latha daily. YOU KNOW WHAT HAPPENED? God blessed the seeds and they grew into plants. Latha was able to have a great harvest for all to see! The villagers were amazed! LTA is so happy she could not keep her testimony quiet in church. She is bursting with joy. The whole church rejoiced with her. It was a miracle from God and everyone knew it. Praise the Lord! We will be following up to see how this rice harvest produces a harvest of people. Please keep praying for this situation!
In Christ,
Mark and Hepsibah,