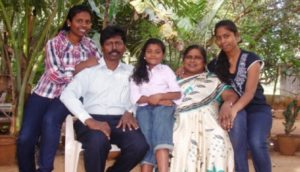 Youth With A Mission DTS
Sundar & Ida, Tamil Speaking
Greetings to you in name of our Lord. We thank you for encouraging us through your prayers and generous support. By the grace of God He has seen us through another season!
The lord has done great things for us and we are filled with joy. The past two months are filled with your faithful prayers and support that fueled the ministry. We give all the glory to our Lord Jesus Christ. Here are some of the highlights of our ministry.
DTS
In January lord helped us to provide Blankets for 50 Widows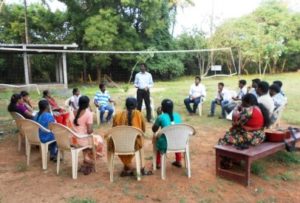 & Poor people, in Vadaku pattu village near padappai. This is first time that program was conducted at church and we preached the Gods love. January Batch of DTS we got 12 students and 6 weeks teaching over and we saw the good changes in the students life. One student he his handicaff in c
hilled wood attacked by polio he have inferiority. Now he has self confident & growing well in Christ. DTS schoo
l time we all went to outing place called Kovalam Beach all of them enjoyed lot. Even on that place a drunker was flowing in sea our students & staffs rescued him from sea we saved his life.
FAMILY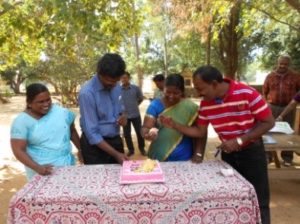 February 5th My birthday I turned to 55year old birthday celebrated with YWAM LEADERS, even one of the our ywam leader also had birthday on same day.
My daughters they are studying well, Elder daughter Angelin she is going to finish her studies after 5 months, on
February 27th we celebrated Blessy 10th birthday she is also growing very well, we planned to put her in new school so we have to pay 68,000 for annual fees 50% amount we need to pay for admission.
But we don't have such a huge amount to pay. We all prayed for the emergency need and with the Gods Grace we got the 50% of the money from godly people. But we never expected this huge amount one thing I can say whomever prayed for fees, I just want say thank you so much for your prayers and stand with us..
DAY CARE
Day care his going very well with god grace, 35 children are coming to day care
regularly. We have good relationship children parents; they are seen god's love in our staffs serving for children. We planned to bullied hall for day care, because more children are coming and also we need to register legally we are praying for building needs.
PRAY FOR THIS POINTS
 New staffs and staff financial support
 Blessy school fees
 Day care building a Hall
 DTS student life changing
With love in Christ
Sundarraju, Ida, Angelin, Silva, and Blessy