John Solomon & Family - Home Page
Church Planting & Ministering to the Poor
Undisclosed location Area of Malaysia
During the pandemic in our country of M*, churches have not been allowed to reopen yet. The lockdown continues. We are meeting using Zoom. We are training our people as disciples and at the same time, we are making them cell group leaders. We are teaching them how to pray through the Psalms using Tremper Longman's Psalms: An Introduction and Commentary to train the leaders and cell groups how to reach out to Hindus using prayer and the Psalms.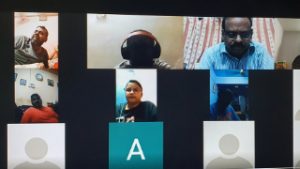 At present, we are running five cell groups. Many Hindu seekers will attend cell groups after the lockdown. In these groups, we share life, care for them, pray for them, teach them how to pray, and help them come out of their addiction.

Please continue to read our newsletter by clicking here
John Solomon