Church Planting & Ministering to the Poor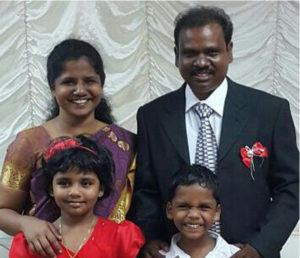 John Solomon & Family in M________
I praise God for your friendship also I like to share what God has done in our ministry. His grace is sufficient for my family. His word is giving us strength and is guiding us to do His ministry.
Plowing the Ground to Start Churches
Two years ago I took over a church of 25 people in a very harden and poor place. By God's Grace, this church has nearly doubled in size. In another area where there was no church, called PRAI. 75% of people were Tamil Indian people living together. 60% uneducated people. These people don't have proper work, some go out for daily work and daily wages. Most stay around town to fight and steal from one another. We the help of the Lord we have 50 coming to church in this harden areas.
Helping the Poor and Needy
We look at the people. They are in a very bad situation. The tea estate and rubber p
lant they came out of is no longer in business and they have no other trade. We help them with rice and noodles and small kitchen things as we can. We are praying they can find another job soon. It is very hard to get job because they already very old so we are helping them monthly once.
Naren the Gangster Came to Church
We met one boy nearby church area named, Naren. He was so sad we ask him what happen in his life. He said that 17 police cases were on his name, and 2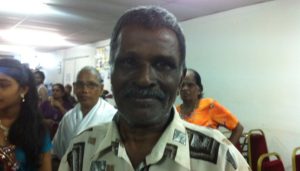 murder cases. He said that he had been 3 days hiding in the jungle because of he afraid police will catch him. He was unable to eat and drink. Naren finally came out from the jungle to find some food and the police did catch him and sent him to prison. For some of the reason, the system released him out of prison, now the old friends are calling him to do again the gangster lifestyle. We share about Jesus. He was amazed that Jesus could forgive him and give him a new life. Naren accepted Jesus. We gave him a to continue to read.
Valarmathi Saved From Suicide
We came to know valarmathi through one of our friend. We saw her in the Hindu temple she is doing very religious work because she doesn't have peace in her life.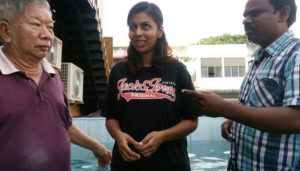 She was thinking about committing suicide. She thought the Hindu god will give peace with a different life. She had so many problems in her body, she wanted to start over with reincarnation. Her family and Valarmathi came to talk with me. Valarmathi started to cry when we shared about the love that Jesus had for her here and now. After two weeks, Valarmathi came to know Jesus as God and thanked Him for a new life. She is learning that God's grace is sufficient for her.
Poor Children Enabled to be Schooled
Pream Kumar came to church he told us about his family situation. He is 15 years old boy. He has 3 sisters they staying with her mother. They don't have a father—the fath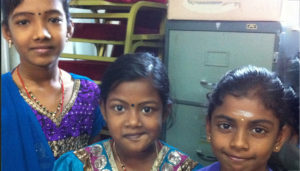 er died when he was small so his elder sister took the responsibility to take care family. Because of this, the elder sister never got to go to school. The mother was a sick peasant so she had to take care of brothers and sisters but she desire to send them to school. Our church is helping them out so the kids can go to school.
Trying to Build Church Building in India 
We are doing in ministry in India also we started the church among the high cast people that place located nearby Vellachary this people against Christianity but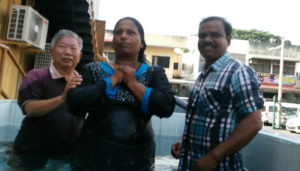 they living in very ugly place, we are sharing the gospel and helping to homeless children's we are looking one house for them.
Prayer points
1, pray for ministry growth, and protection for Christian people
2, need small group leaders
3, please pray for children's needs each RM 300 per month
4, pray for rented house for homeless people
5, pray for good health & kids and family