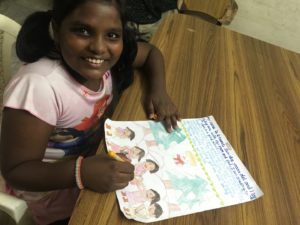 The Hindu government still has our girls we saved from infanticide. The Covid19 lockdown brought our fight in the high court to a complete halt. As you can read throughout our other blog posts, people in our State wanted one child.  The Eastern slogan: "We two, but we are one."  This means the government only wanted us to have one child. Because of customs in India, girls are very expensive to care for and to raise, so everyone wants a boy. In villages, some people were killing their infants when they discovered they had a girl.  We worked in these villages to literally rescue our girls from death. The parents of these girls didn't want to get caught by the police so most of the details on the paperwork is incorrect. Now, we are in a big battle to make our government return our girls to us. We have made some headway, but it is an ongoing battle we can never give up. Our cost to keep the house for the girls so we can maintain our non-government status is very high. Now, the court is prohibiting us from discussing the Baby Girls Home situation with others. Please email tommy@equipthenations.org for our current information.
To continue to read our update please click here
Thank you for all your prayers and support during our time of tribulation.
Russal and Kamari
Email: russal@rediffmail.com
FaceBook: https://www.facebook.com/russal.raj
To support the ministry for the first time Click Here.
To reenter your giving portal click here