Rescue and Restore Ministry
Freddy & Daisy, India –HOME PAGE
Restoration House, Evangelism, Church Planting, Street Ministry, Slum Ministries
A family came to the Lord through our Outreach Program!
The dad's name is R*. His wife's name is M*. They have two daughters who really need education care. The father is working a loading job and the mother is a housemaid. They live in the slums. We are actively helping them to know how to care for their family and children. They saw Jesus through us. God saved them!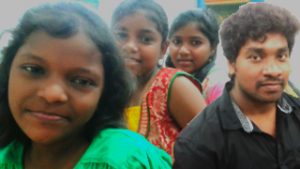 To continue to read our newsletter, please click HERE.
Again, we couldn't help the poor in India without you.
May God bless you abundantly
Freddy Paul & Daisy Chennai
Email: fdpaul@gmail.com
FaceBook: https://www.facebook.com/freddy.paul.39;
To support the ministry that Freddy Paul and Daisy oversee for the first time 
Click Here
.
To reenter your giving portal 
click here