MARK: Church Planting & Mercy Ministry
Mark and Hepsibah
Village Ministry
To plant a church, our discipleship class started one free after-school class in a village which is located 35 kilometers from my home. PRAISE THE LORD! It is a very interior village. There is only one bus to this village. There are 42 children attending every day. The children were sitting on the floor without a mattress. So we brought one long blue tarp and blessed the children with snacks. It was a great time with the children. We hired one teacher for this program. Please pray as we plan to start ten more after-school classes for the villages. Through this endeavor, we want to reach out to their families with the Gospel and plant new churches.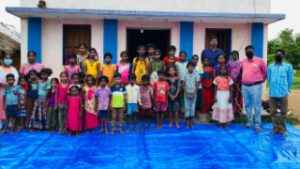 To read our many community works please CLICK HERE.
We really appreciate your prayers and continued support.
In Christ,
Mark and Hepsibah,