Mercy Ministry - Home Page
Nurse Priscilla, Villages
YWAM Campus
Greetings in the name of our Lord Jesus Christ!
People are always visiting my house in the mountains with medical and spiritual needs. One time a woman, Mrs. S***, came to my house. She shared about her her husband, Mr. B***. She said, please pray for my husband. The doctors said we cannot save him from malaria. We have tried all the medicines. The results keep coming back positive and it has been many years. This couple had a son and a daughter. They lost the daughter to sunstroke in 2013. One day, the husband told his wife to please go back to your parent's house and marry another man. It is enough that you have suffered with me all this time. I might die soon. After I die, you will be a widow. If you go now, you can marry with anyone so you can live with dignity. I felt so sorry for them. I went to visit them and started our medicine against malaria for three months. We also provided food. Our super healer JESUS healed him after three months. They went to the hospital. The test result came back that is he free from malaria. With the food provision, I gave him Nestle coffee. He liked so much he journeyed to my house and thanked me.  He asked me to take a picture like this.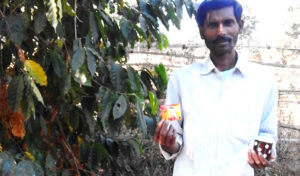 To continue to read my newsletter, click here.
God Bless Priscilla Poongodi,