CHURCH PLANTING & COMMUNITY DEVELOPMENT
Samuel Paul
India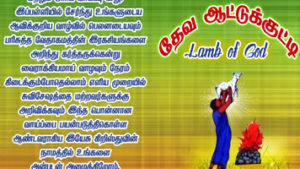 After our Sunday Service, a team of us went door to door for evangelism around our church area. God spiritually opened the mind of one woman to understand the Gospel of Jesus as we shared from the Law, the Psalms, and the Prophets (cf. Luke 24:44-45).  Praise the Lord! Afterward, she said that her small son had been continuously telling her to go to our church. But she refused to grant his request. Now the love and grace of God as illustrated throughout the Old Testament prophesies opened her mind to understand the truth. I'm so thankful that God led us to her house. Hallelujah!
Also, we are planning to start a Lamb of God Chronological Bible course in our church. We are praying for the woman and 30 more students come to hear the Gospel presented from Genesis to Revelation. Please pray for the finances for materials. Thank you for the financial and prayer support!
You can read the rest of my newsletter by CLICKING HERE.
Blessings,
SamPaul
You can keep up with and correspond with Jebaraj in the following ways: