Rescue and Restore Ministry
Freddy & Daisy, India – HOME PAGE
Restoration House, Evangelism, Church Planting, Street Ministry, Slum Ministries
As many of you know, we have been working with Street Kids who primarily live at the train station for many years. A year ago, God provided us with a parcel of land and He has enabled us to build a Rescue & Restore Home for our precious street children. God really blessed us and gave us strength to trust Him for each and everything. We have almost finished the first building. In December 2020, we did a land breaking for our boy's building. You can see the progression in the pics below. Our plan is to be finished by March of 2021. Please do keep us in your prayers.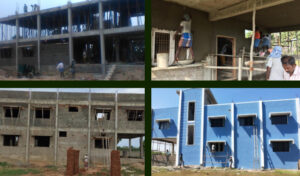 To continue to read our newsletter, please click here
Freddy Paul & Daisy Chennai