MARK: Church Planting & Mercy Ministry
Mark and Hepsibah
Village Ministry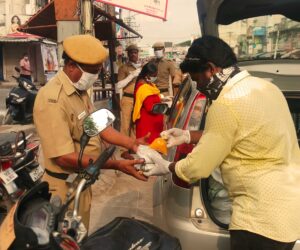 Many migrant workers in our area became stuck in our area when the Government lockdown our State. These daily wage earners could no longer work and their suffering became extremely great. The past 21 days we have been going out daily to give food to the neediest and the poorest in our area. The following is one story of how we are helping:
As you know, we have permission from the local police to help during covid19. But yesterday we were approached by a military commander as we were handing out food. Commander Williams sternly asked many serious questions like, "Who is giving us money?"  "What organization do we work for?" 
We began to have some fear!  But we resisted our emotions and asked about him and his family. The commander revealed that he was in a bad relationship with his wife and kids
So, I asked if we could pray for him. This kindness shocked him!
But then the commander asked, "Why?  What will happen after you pray!?!" And then he commanded, "Don't waste my time!"
So I asked again and this time he halfheartedly agreed.
During the prayer, I felt like God revealed some of his core family issues so I prayed them out.
Afterward, the commander was shocked and spoke with a broken voice. He wanted to know how we knew so much about his personal life. He said, "We prayed like we have known him for 20 years."
This gave us the opportunity to share the G**pel story with him. Praise the Lord.  He didn't openly accept our Lord but he gathered policemen and told us to pray for them.
Wow! Praise the Lord. He is great. Pray for Commander William's salvation.
Thank you for sustaining us with your prayers.
We really appreciate your prayers and continued support.
In Christ,
Mark and Hepsibah,