John Solomon & Family - Home Page
Church Planting & Ministering to the Poor
Undisclosed location Country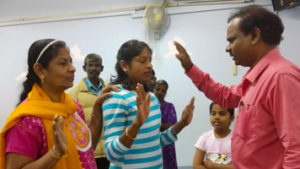 BACKGROUND - I asked you all to pray for me to be released from  Nir*** husband's desire to beat and persecute me.
UPDATE - God is great and He heard your cries. God changed the heart of Nir***'s husband!   Nir*** went back to the doctor to check on the tumor in her uterus.  Miraculously, the size of the tumor size is shrinking every time Nir*** goes to the doctor for CT scan.
Nir*** said to her husband, Jesus, like no other God's we have worshipped, has been doing a great miracle in me. So I will go again to church to say thank you to Jesus. This time, the husband didn't say anything. So.  Nir*** freely and peacefully came to church yesterday praising God for your prayers and His powerful hand. This teaches me that no matter how big our fears that we should never lose hope. "For in this hope we were saved. Now hope that is seen is not hope. For who hopes for what he sees?" Rom 8:24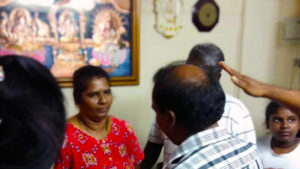 TURNING FROM SINS
Today I met Setha, her husband, and two children. Their home was full of the idols that they were worshiping. Setha was also affected by the witchcraft that a neighbor was using on her. When I spoke, I used The Lamb of God evangelism that shares the Ten Commandments. This gives them an accurate understanding of breaking God's heart. These people had gone to many places to be delivered. I boldly told her that only through repentance and belief in Je*** could she be delivered. (1 John 4:4) Then I prayed for her and her family. Through faith, she has been delivered and now she is coming to church. Her and her whole household.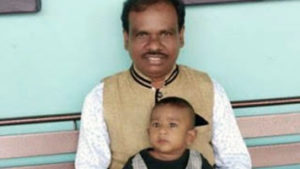 ASSAULTED – I'm back home in ***  ministering to the Tamil people in the slums. I have a big prayer need- Nirmala's sister received healing in the church, so Nirmala and her mom have been coming to church the past 3 months. Last night, we had a special prayer meeting at church, and Nirmala attended. In the middle of a meeting, Nirmala's husband came in wearing his motorcycle helmet. He began yelling and shouting: Who is the pastor here. As my heart raced, I said: "I am."
So, I followed him outside where he began his verbal assault against me and his wife. He yelled, "As Hindu man, I can't allow my wife to come to church." He then screamed, "I came here to beat the pastor and my wife." But, thankfully, Nirmala's mother stepped in and stopped him. But, he looked sternly at me and told me that he would meet me tomorrow-Monday. And then he left. Please pray for wisdom and protection. Things like this can upset the whole village and start a great persecution of Christians. [I have given Solomon ideas on how to handle the situation. Please pray!—Tommy]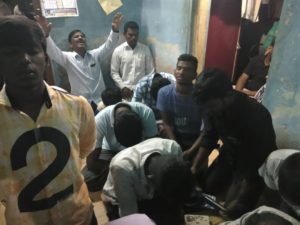 After many years, in an area you [Tommy] taught the Lamb of God chronological salvation message from Genesis to Revelation, a pastor is setting up meetings and teaching. He is doing this freely on his own. The area name is SriperumpadurI. I have been invited to teach in the prayer meeting today. The one who organized this meeting is still very thankful to our team and the teaching. He sends much love to us. I pray you also have a good day learning from the Lord!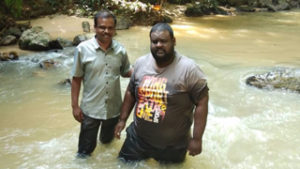 Will God Save Anbu from Execution? When Anbu was younger, a drug dealer tried to coerce him to sell drugs to school kids. Anbu refused. A few weeks later, the drug deal ambushed Ambu using a long knife. Ambu ended up with several deep cuts, but he survived the attack. A couple of weeks later, Anbu encountered two of the drug dealer's cohorts. Once again, Anbu had to defend his life. This time, in self-defense, Anbu killed one of the attackers.
The police arrested Anbu and the courts gave him to the death penalty. As Anbu awaited his execution, a Christian brother shared the Good News with him. Anbu tried to trust in the Lord, but he questioned how he could believe in any god who would allow him to experience such atrocious tribulation in life.
Anbu was fighting for his life and to have faith in the life to come.
Miraculously a report was presented to the Higher Court that Anbu was underage at the time of the incident. The Higher Court released Anbu as time served. As soon as Anbu was released from prison, he found me, received Christ, and was baptized. Praise the Lord!
"When the disciples heard this, they were greatly astonished and asked, 'Who then can be saved?"
"Jesus looked at them and said, 'With man this is impossible, but with God all things are possible.'" (Matt 19:25-26)
Thank you so much for your support and prayers!
Yours in Christ,
John Solomon